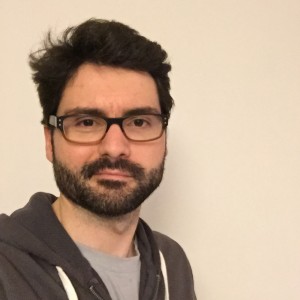 Cédric Barthez
Senior Game/Level Designer
Email: cedric.barthez (at) gmail.com

Age: 37
Short Bio
Since my young age in the late 80's I've always been creative by drawing things, programming games on my TI-82 calculator or writing music on my guitar. But I started to study physics during 5 years in college, until I understand that it was not enough creative for me. So I stopped everything after my master and passed a 2 years Web Creative Director degree at the
Supinfocom school
, before studiing Game Design during 1 year at
ENJMIN
. Then I worked at Monte Cristo Games during 1 year, mainly on City Life, a good alternative to Sim City. And I arrived at Ubisoft Paris to do some Level Design on Red Steel. Since then I continue to improve my skills on a lot of different kind of AAA games (Raving Rabbids, Rayman Legends, Valiant Hearts, Assassin's Creed) and try to overcome even bigger challenges.
Skills
9+ years of experience in
video game design positions
on a wide range of published AAA games (fps, platformer, party game, city builder).
Game design theory: Micro & Macro Flow, Variety & Pacing, Player's Motivations, Usability, Learnability, Difficulty Management, ...

Large variety of practical knowledge: 2D & 3D game editors, solid skills on oriented object programming and tools specifications.

Design with the User Experience in mind: Signs & Feedbacks, tuning & iterations through playtests.

Strong artistic sensibility: build layout with right proportions and memorable visual identity in addition to fun & creative gameplay.

Team management: organize and motivate people towards a common goal, agile organization.
Experience & Projects
Assassins' Creed Dead Kings (PS4, XOne, PC) | Senior Level Designer
Ubisoft Montpellier, France | May 2014 - Nov 2014
In charge of the Coop Mission (from high concept to networked scripting) and two Murder Mysteries missions (setting, scripting & tuning).

Built a navigation bubble sequence in Mission #3 (layout in 3DS Max).
Valiant Hearts (PS3, PS4, X360, XOne, PC, iOS) | Senior Designer
Ubisoft Montpellier, France | Aug 2013 - May 2014
Designed several benchmark gameplay sequences during preproduction (defined guidelines to build challenging puzzles, and how to melt narrative purposes with gameplay objectives).

Designed tools to build puzzles in UAF (the engine initially used to create Rayman's platform games).

Helped improving the 3C by giving constant feedback to the gameplay programmers.

Designed & built several pivotal levels: Anna in Ypres, The Zeppelin's crash, Karl's escape at midnight, Freddie helping Canadian troops, ...

In charge of the game's first half quality in the last production's months.
Rayman Legends (WiiU, PS3, PS4, X360, XOne, PSVita, PC) | Senior Game/Level Designer
Ubisoft Montpellier, France | Oct 2011 - July 2013
Worked very closely with Michel Ancel to faithfully transpose his vision into the game.

Prototyped and designed lots of gameplay ingredients during preproduction.

Worked on innovative tactile WiiU gameplay, specified the AI character (when you play the flying character) and LD tools.

Defined maps' content, especially the ones from the final world (Olympus).

Designed the final epic boss fight.
Rayman Jungle Run (iOS, Android, W8) | Senior Level Designer
Ubisoft Montpellier, France | Feb 2012
Helped out Pastagames by making several levels during a couple of weeks.
Tintin and the Secret of the Unicorn (Wii, PS3, X360) | Senior Game/Level Designer
Ubisoft Montpellier, France | Jan 2010 - Sept 2011
Lead Designer of the coop mode (30+ maps / 6+ hours of gameplay).

Responsible of the Macro LD (game elements distribution, learning, difficulty & flow curve).

Managed a team of six Levels Designers, including three LDs from the Ubisoft Bucarest Sudio.

Built ten coop maps (high concept, layout, scripting, tuning).

Designed and prototyped a competitive multiplayer fighting mode that didn't make the final cut because of time.
Red Steel 2 (Wii) | Senior Level Designer
Ubisoft Paris, France | Nov 2006 - Nov 2007 & Dec 2008 - Dec 2009
2007 (Red Steel 2.1): designed and built the FPP, and brought fourth game's levels to alpha.

2009 (Red Steel 2.2):

Collaborated in the macro & micro level design documentation with the Lead LD and Creative Director.

Defined the best practices and golden rules to produce the levels.

Designed a non-linear hub level: the missions, needed gameplay ingredients, pace, flow & difficulty.

Designed 3 additional linear maps tied to the hub (high concept).
Rayman Raving Rabbids TV Party (Wii) | Level Design Content Director
Ubisoft Paris, France | Dec 2007 - Sept 2008
In charge of 19 mini games (game design and production follow-up).

Managed a team of five LDs.

Designed, prototyped and tuned the Beestie Boarding and the Mega Balls minigames (four levels for each).

Tuned difficulty, accessibility, feedbacks and controls on the wiimote and Wii Balance Board from playlists' sessions.
Red Steel (Wii) | Level Designer
Ubisoft Paris, France | Mar 2006 - Oct 2006
Designed, built and tuned one level and helped on finishing another one.
Kazook / Xtreme Party (PSP) | Game Designer
Monte Cristo Paris, France | Jan 2006 - Feb 2006
Designed and scripted (in LUA) three minigames: feedbacks, huds, difficulty, controls, npcs' ai.

Helped on designing several other minigames.
City Life (PC) | Game Designer
Monte Cristo Paris, France | Jun 2005 - Dec 2005
Designed all user interface and HUD ingame feedbacks.

Built ten levels.

Tuned the game difficulty: setting of all the game's variables (building costs, npc's behaviors states, ...)
Education & Student Projects
Master's Certificate in Video Game, Game Design Specialization
ENJMIN, France | Jan 2004 - Dec 2004
Our student project, Kitchen Frenzy, was shown in 2004 to the Ubisoft top management on invitation of them.
Multimedia Creative Director degree
Supinfocom, France | Oct 2001 - Jun 2003
Physic degree
Toulouse III University, France | Oct 1996 - Jun 2001
Honors & Awards
Valiant Hearts (2014, Ubisoft, PS4, XOne, PC, iOS, Android):
Rayman Legends (2013, X360, PS3):
nominee at the 2014 Games BAFTA in Family category.

winner in Best Console Game and Best Music in Ping Awards 2013.
Kael ou la Maison des rêves (Student project) awarded with Best Game Award in
2003 Web Flash Festival
in Paris.
Misc
Gave several internal conferences at Ubisoft in front of Lead & Senior Level designers called "Macro & Micro navigation in Level Design", "Level Design: The creative process" and "Pre-production in Level design: the prototyping process".
Strong knowledge in lots of game editors, software or languages: Anvil (Assassin's Creed Editor), Ubi Art Framework & LyN (Ubisoft engines), Unreal Ed, Far Cry Sandbox, C# (XNA), Objective-C (iOS), Lua, PHP OOP, jQuery, 3D Studio Max, SketchUp, Photoshop, Office (Word, Powerpoint, ...).
Passions: Cinema, music (play several instruments) & music history, TV shows, HiTech.